SmartNews Named a TiE50 2015 Top Startup Winner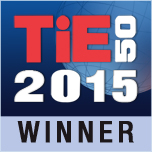 San Francisco, CA — May 18, 2015 — SmartNews (smartnews.com), the award-winning news-discovery app, announced that it won a TiE50 award at TiECon, the largest conference for technology entrepreneurs, held on May 15-16, 2015 in Santa Clara, California. Out of 2,176 nominees and 153 semi-finalists, SmartNews was chosen as one of the Top 50 startups in the world.
Judges from the venture capital and technology community commented that SmartNews was chosen due to its strong international focus and unique machine learning technology, which allows it to scale culturally relevant news that's tailored for each country.
TiECon is one of Silicon Valley's largest and longest-running technology conferences, attracting more than 3,000 attendees from the international venture capital and technology community annually. Worth magazine called it one of the top ten conferences for "ideas and entrepreneurship," alongside TED and World Economic Forum.
A winner of multiple "App of the Year" awards, SmartNews launched its U.S. edition in October 2014, and its International Edition in 150+ countries in February 2015. To date, more than 12 million people have downloaded SmartNews. Users are attracted to its simplicity, super-fast offline reading mode, and unique news-discovery algorithms that uncover the most interesting and important stories from around the world.
SmartNews is available on the App Store and Google Play for mobile devices. Learn more at: http://www.smartnews.com.