Travel Diary #1: Mixing Business With Pleasure In Tokyo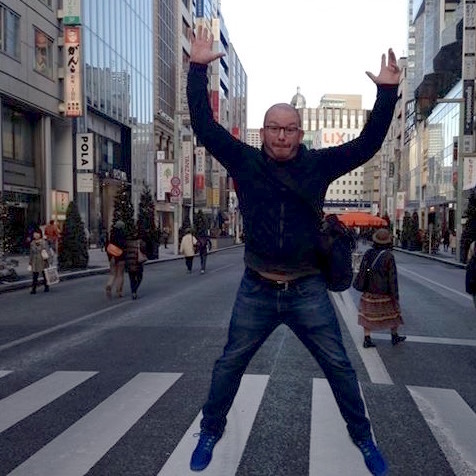 I recently returned from a relatively quick, one-week visit to SmartNews's Tokyo office.
My trip was bookended by our 3 year anniversary celebration, with a small gathering at our amazing office in Shibuya, and a partner meeting attended by about 150 members of the Japanese media.
Naturally, I was able to mix some business with pleasure — of which there's a lot to be had between sightseeing in and around Tokyo to experience its rich history, and exploring SO many great eating and drinking spots.
The SmartNews team is always up for fun, and are keen to show their U.S. counterparts the ropes… very handy when you're halfway around the world! Here's a photo diary with just some of the week's highlights.
TOKYO PARTNER MEETING
I was pleased to give a presentation during the partner meeting, and was asked to highlight current trends and general water cooler talk in the U.S. media world. It seemed like an appropriate time to reflect on the very busy year that was 2015.
I presented about three topics — fundings and recent M&A news of youth-focused, digital native publishers like VICE, Buzzfeed, Vox Media and Business Insider; the global Ad Blocking trend; and content distribution on platforms like Facebook video, Facebook's Instant Articles, Snapchat Discover and Apple News.
This was a relatively easy task considering those in Japanese media tend to follow what's happening in the U.S. very closely! My colleague Masataka provided the translations…
SMARTNEWS TOKYO OFFICE
I was heads-down prepping for the partner meeting much of the week during business hours. Being my first visit to the new SmartNews office (we moved offices in May), that was no problem and very enjoyable considering how AWESOME our new space is.
The pictures don't do it justice, but the office is serene and simple with many areas to gather to chat, as well as a shoes off area favored by our machine learning engineers.
The Newsstand area is a nice gathering place, but you have to try not to get too distracted by the nearly endless variety of publications from around the world.
And great, healthy, "farm-to-table" type lunch is provided daily, cooked right in the office! The food is delicious and it's nice to sit and chat with colleagues.
After lunch, the coffee bar is open… with amazing coffees from around the world!
SIGHTSEEING AROUND TOKYO
On Saturday, I took a guided tour through the Imperial Gardens in Chiyoda, Tokyo — where the Emperor and his family lives. The East Garden grounds are open to the public. They're beautiful (and free!), and I happened to get a sunny and unseasonably warm day.
Not to bad way to spend a Saturday in Tokyo.
After the tour I was joined by my colleague, Yuri, who was coming straight from a tea ceremony class, dressed in a traditional kimono!
Yuri is donning the kimono as she's studying to perform the ceremonial preparation and traditional presentation of matcha — powdered green tea and is a rich part of Japanese culture. 
This is a several years long process for Yuri-san to become fully accredited!
On Sunday, Yuri and two other esteemed colleagues, Aiko and Jun, took time from their weekend to take me on a tour of Nikko National Park, a little under 2 hours from Tokyo by train.
Delicious snacks are always the order of the day in Japan.
After a stop for lunch, we visited cultural areas that are UNESCO World Heritage sites today dating back to the Shogun era of the 1,600s!
This is the mausoleum of Tokugawa Ieyasu, founder of the Shogun era in the early 1,600s. This area is typically not open to the public, but has recently been made accessible for it's 400th anniversary. Lucky us!
The entrance and exit of the sacred areas are marked by these torii. Tradition says you should enter with your right foot first, and exit with your left.
This wood carving of the famous three wise monkeys — see no evil, hear no evil, speak no evil — sits over the Tōshō-gū shrine in Nikko. In Buddhist tradition, they represent a proverb about not dwelling on evil thoughts, and to be pure in thoughts, words and deeds.
FOOD, DRINK & MORE FUN
My Instagram is now a veritable foodie's dream diary, and filled with some great memories of holiday fun with the Tokyo team. Here are just a few highlights!
Sashimi and sparkling sake with our amazing Ads team at an Izakaya. 
Next course… Sukiyaki!
Next up, a similar Izakaya-type restaurant, with some real down home Japanese style eats, such as Tsukune, sort of a chicken meatball dipped in salt.

And Niku-jaga, a little meat & potatoes plus a cold beer always hits the spot. SmartNews team approved!
And naturally, no trip to Japan would be complete without a steaming hot bowl of pork ramen…
…and some amazing omikase sushi, eaten at the airport at 10:30 am prior to heading home!
The experience made me jump for joy in Ginza… I can't wait to return to Tokyo!