SmartNews Joins Google App's Now Third-Party Platform to Deliver Trending News at the Right Moment on Android Devices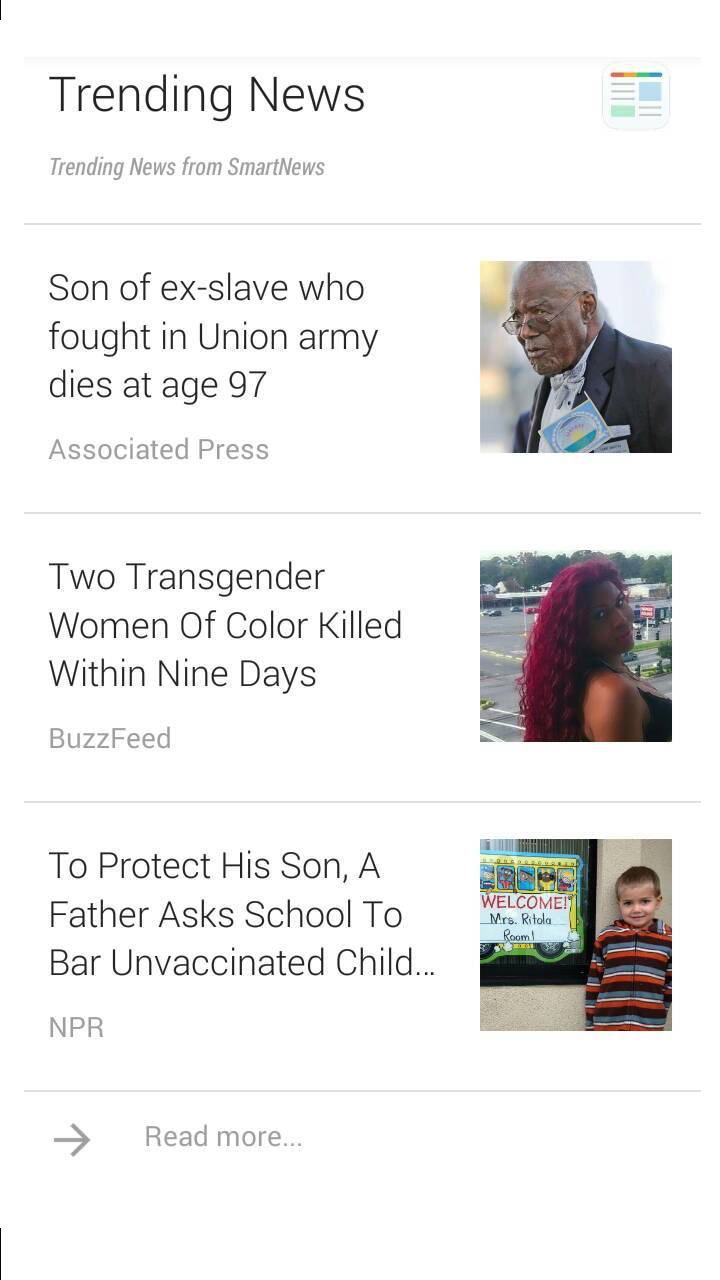 Summary: SmartNews, the #1 News App in Japan and U.S. on Google Play, is a launch partner for Now cards in the Google app.
SAN FRANCISCO, CA, January 30, 2015 – SmartNews (smartnews.com), the #1 app in the News & Magazines category on Google Play in Japan and U.S., is pleased to announce it is a launch partner for Now cards in Google app.
Google today announced it would be integrating Now cards from top developers into the Google app. The inclusion of SmartNews with the Google app means SmartNews users will be able to get SmartNews Now cards delivered to their Android device at the right time.
Google app users on Android who have installed the latest version of SmartNews will be able to automatically receive trending news articles at a convenient moment – for example, when they start their commute. Users of SmartNews's Japanese-language edition will also have access to additional features, such as location-based news and daily trivia.
SmartNews is expanding its partnerships with platform operators, media publishers and content providers to make reading the news more convenient for users. Last week, SmartNews launched local news channels for 12 major cities across the U.S., and new publisher channels for TIME, USA Today, Fast Company, MSNBC, Reuters and many others.
SmartNews is currently the #1 app in the News & Magazines category on Google Play in Japan and US, with more than 1 million monthly active users in the U.S.. To download the app, visit: www.smartnews.com.
Now cards from Google app
Now cards are a feature of the Google app which give people relevant information at the right time, without you having to ask for it—whether it's the score from a sports game or your flight status. Starting today, the Google app on Android is bringing Now cards from 40 different apps, to give people information that's helpful right when they need it."
# # #
About SmartNews
With offices in Tokyo, San Francisco and New York, SmartNews is dedicated to delivering quality information from the world to the people who need it. Founded in December 2012 by Kaisei Hamamoto and Dr. Ken Suzuki, SmartNews uses proprietary machine learning algorithms to evaluate tens of millions of articles, social signals and other cues each day to discover and deliver the stories that matter now.
SmartNews has won numerous "App of The Year" and "Best News App" awards and is available in Google Play for Android devices and the App Store for iPhones and iPads.
For more information or to download the app, visit: www.smartnews.com
Press Contact:
Vincent Chang
Senior Manager, Communications